WINNER CROWNED AT THE 2018 VEGAN BURGER COMPETITION, THE BURGER SUPREMACY
BROOKLYN--"Bacon Cheese Burger for a New Era" was the big winner at the 2018 Burger Supremacy competition held recently at V Spot Organic.

But the ingredients might surprise you, since no animals were harmed at any point in the creation of the dish.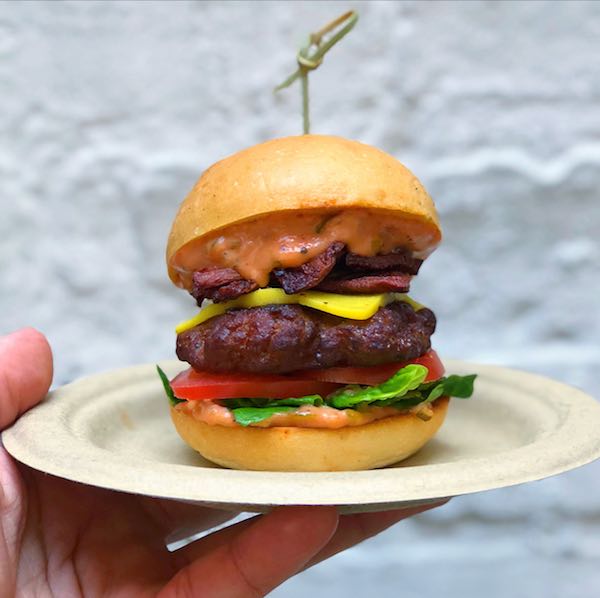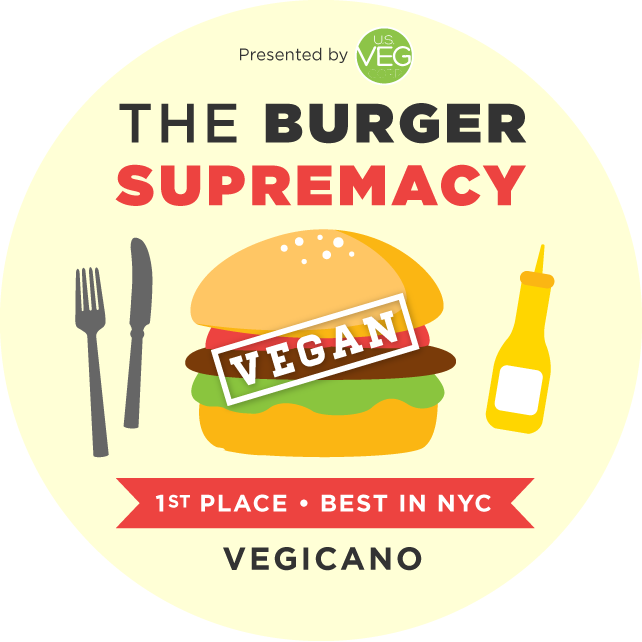 Chef Rudy Ramos of Vegicano built his winning vegan recipe with a seitan patty, almond and hemp provolone, smoked jackfruit bacon, porcini tomato sauce, and a locally baked bun. The champion burger lead the field of 6 competitors.

Second place was snagged by Luv Burger hailing from Costa Rica(!), featuring a gluten- and soy-free patty. Judges awarded third place to Veggie Grub's jerk/barbeque blue cheese burger, which also garnered the People's Choice award.

The competition was presented by U.S. Veg Corp, the company which also stages the massive NYC Vegetarian Food Fejstival every spring as well as Vegan Drinks Brooklyn every month. It has also hosted numerous other vegan food competitions featuring tacos, Brussels sprouts, mac & cheese and more.
Co-organizer Sarah Feoli noted, "The burger contest is one of our most popular events. This was our third year to do it, and it just keeps growing." Attendees who made it into the sold-out event were able to sample portions of each competing burger, and then wash it all down with drink specials.
Next up on the U.S. Veg Corp docket is the California Vegetarian Food Festival to be held during the last weekend of September in Hollywood. For more information, visit www.cavegfoodfest.com. To sign up for future plant-based event alerts, visit www.usvegcorp.com/event-calendar.